The Story of "Gentle Ben"
By Randall Burton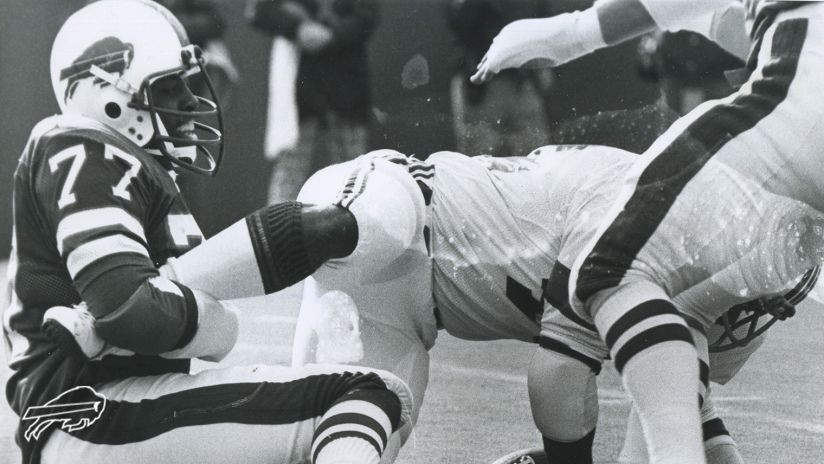 (Photo from The Buffalo Bills)
Being one of the first African-American to play for a storied program like the University of Mississippi was a huge challenge, one that Ben Williams was up to, and one he conquered. So coming in as a third round draft choice of the Buffalo Bills would just be another challenge for the man teammates called "Gentle Ben".
Williams graduated from Yazoo City High School which also produced former Atlanta Falcons guard Houston Hoover and current Eagles defensive tackle Chandler Cox. From there, Williams stayed in state, attended Mississippi. He became a four-year starter and the first African American Rebels player to be named All American in 1975. After he graduated with a Bachelor of Business degree, it was off to the NFL.
Williams started seven games in his rookie season (1976) on a dismal Bills squad that only won 2 games under head coaches Jim Ringo and Lou Saban. Williams played well, even ending up with a fumble recovery his rookie season. Under new head coach Chuck Knox, Williams became the full time starter and put his career on a track that would see him retire as the franchise's all-time sack leader (a record since surpassed many, including Bruce Smith a player he helped mentor) and become one of the moved beloved players in Bills history.
There is now a generation of Bills fans who never saw Ben Williams play, and only know him through YouTube clips. They didn't get to see the player that gave offensive linemen nightmares in the early 1980's, freeing up line mate Fred Smerlas to bring pressure up the middle. Williams only has one all-pro game on his resume, and the Bills were never good enough to make deep play off runs while he played for the team. And he finished his career in 1985 with Bills teams that were just as morbid as the ones he played for ten years prior.
He mentored a young first overall pick in Bruce Smith and showed the talented Smith the difference he'd face on the pro level going against offensive linemen that were worlds better than he'd faced in college. And it was that mentoring that would begin Smith on a road that would see four Super Bowls and enshrinement into Canton, Ohio.
Williams retired after the 1985 season, leaving the game at just 31 years old, and right before the Bills went on their legendary run.
Ben Williams was named to the Bills Silver Anniversary team as one of the fifty greatest players in Bills history. But "Gentle Ben's" reach extended beyond the field and back to Mississippi, where he established the Ben Williams Minority Scholarship Fund in 1993 and in 1997, became the first African American player in history to be inducted into the Mississippi Sports Hall of Fame. He devoted time to Easter Seals and to fighting MLS.
Ben Williams was more than a professional football player; he truly earned the name "Gentle Ben" with his devotion to his charities. In these trying times, we really could use more people like Ben Williams in this world.
(Photo from www.wlbt.com)
Randall Burton is a WNYPLA.com Contributor. He is a Sports Historian, DJ and Pro Wrestling Commentator. Follow him on Twitter @HandsomeRandall